Top 10 Awesome Things To Do In District 1 Ho Chi Minh City
Are you ready for the list of the coolest and most awesome things to do in the heart of District 1 Ho Chi Minh? If Notre Dame Cathedral and Ben Thanh Market have been long favored by so many tour operators, there are other hidden places filled with intriguing activities that you should not skip. 
Known as one of the most developed districts in the city, District 1 is definitely the hub of economic advance. But what makes this area really stand out is a perfect blend of ancient values and modernity. No matter who you are, a culture vulture or a nightlife addict, District 1 in Ho Chi Minh has everything you're probably seeking!
1. Turn back time at historic attractions
People talk much about The Independence Palace but stories about this place never bore you for sure. The symbol of the greatest triumphs marking a significant milestone in Vietnam's history is where you can get lost in solemnity.  
Location:

135 Nam Ky Khoi Nghia, Ben Thanh Ward, District 1

Opening hours:

Daily from 7.30 AM to 4.00 PM (The ticket window closes between 11.00 AM and 1.00 PM)

Entrance fee:

VND 40,000/pax 
Another iconic attraction worths your visit is The Central Post Office with a blend of Gothic, Renaissance and French colonial design. Most people come here not only to mail a postcard home but to adore the timeless architecture featuring the spacious interior with domed ceilings, metal arches and admirable patterned tile floor. Getting here, you shouldn't miss out a chance to meet Mr. Duong Van Ngo, a 89-year-old man who has written thousands upon thousands of letters for nearly 30 years, making himself an epochal part of the building's history.      
Location

: 2 Cong Xa Paris, Ben Nghe Ward, District 1

Opening hours:

Daily 7.00 AM to 7.00 PM 

Entrance fee:

Free
Just 2 minutes walking from The Central Post Office you can reach Notre Dame Cathedral de Saigon, or commonly known as Duc Ba Church. Modelled on the significant Notre-Dame de Paris, Notre-Dame de Saigon was built with all original building materials imported from France. The church, with 12 main columns along the wall, can hold up to 1,200 visitors. Be sure not to miss this historical spot and the photo opportunities it brings!
Location:

1 Cong Xa Paris, Ben Nghe Ward, District 1 

Opening hours:

Monday to Saturday, between 8.00 AM to 11.00 AM and 2.00 PM to 4.00 PM

Entrance fee:

Free
See more on 7 Best Catholic Church in Ho Chi Minh City 
2. Haggle at Ben Thanh Market in District 1 Ho Chi Minh City
The vibrant atmosphere, the smiling traders, the great number of one-of-a-kind things to shop, the delicious street food – what's not to like about the market? Getting a bargain on your shopping is a little more of a challenge, perhaps. 
Worry not, you can immerse yourself in the strong culture of haggling right at Ben Thanh Market. Normally, negotiation about the price is expected by the sellers and the first price they give you is usually high. If you can walk away from a market with a few bargains, then your market trip will be fun and successful.  
Location:

Le Loi Street, Ben Thanh Ward, District 1 

Opening hours: 6.00 AM to 12.00 PM
# Insider tip: Be prepared to get away though you get too captivated by the item – the seller, normally, call you back with a much better offer or you can come across another stall selling the same item at a cheaper price.
3. Uncover the beauty of Jade Emperor Pagoda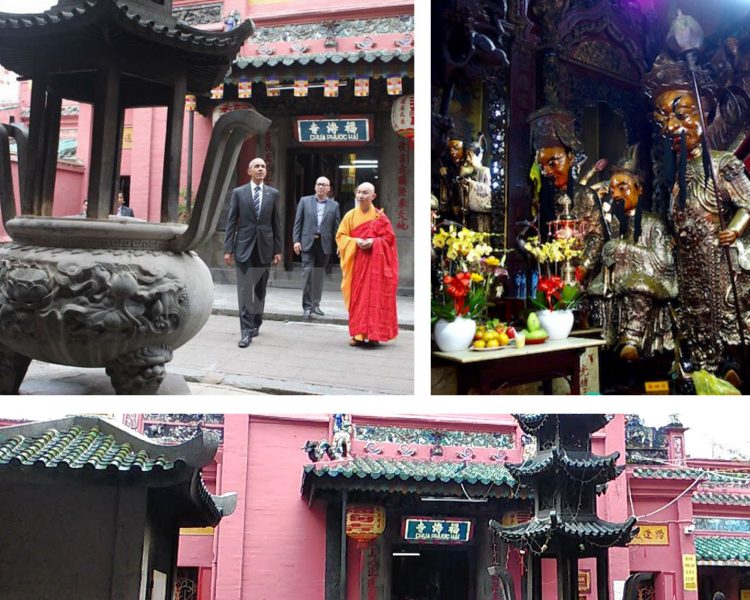 It would be a big mistake to skip the gorgeous Jade Emperor Pagoda. While travelers enjoy visiting this pagoda, one of top nine must-see tourist sites in Ho Chi Minh City, for some great sightseeing and photo ops, this ancient pagoda plays an important role in the daily life of many religious Vietnamese.
The Jade Emperor Pagoda, commonly called Ngoc Hoang Pagoda was built in 1909 in honor of the Jade Emperor or King of Heaven. The pagoda's worshipping area is divided into 3 parts, the main chamber and the other two departments. Ngoc Hoang Pagoda boasts a set of more than 300 ancient statues, in addition to worshipping paintings, parallel sentences and altars made from wood, ceramic and cardboard. 
Location:

73 Mai Thi Luu Street, Da Kao Ward, District 1

Opening hours:

Daily from 7.00 AM to 6.00 PM, plus 5.00 AM – 7.00 PM on the 1st and 15th of lunar month
# Insider tip: It's a good idea to wear knee-length clothes, but if you don't pack a long dress, buy a long robe from the vendors to cover your legs when you visit any sacred pagodas in Vietnam.
4. Find your true coffee at The Cafe Apartment
The Cafe Apartment on Nguyen Hue Walking Street is exactly where you can get lost in the full-of-charm coffee. The old-looking, even a little run-down apartment is unusually home to many heavenly coffee shops with the wonderful backdrop for photo-shoots. Here are some our recommendations: 
» Thinker & Dreamer Coffee – Level 4: This small yet cosy coffee shop is where coffee lovers are sure to get the best of the rich culture of coffee in Vietnam, plus the stunning view of Nguyen Hue Walking Street from above. The elegantly white walls, dressed up with various colorful pictures and thought-provoking works are definitely for dreamers and thinkers.  
» Sai Gon Oi Cafe – Level 5: In addition to the relaxing balcony, Sai Gon Oi Cafe knows how to attract guests with the green interior supported by hanging basket plants. The unique part is a mini board on each table that allows you to write your name on. 
» The Letter – Level 6: Inspired by Hoi An style, the Letter is decorated with adorable lanterns that remind a lot of the real heritage site. Going inside the coffee shop, you will be amazed at the wall filled with the ceramics and vintage chairs that make The Letter a true Instagrammer's dream.   
» Boo Coffee – Level 8,9: Among so many coffee shops in this apartment, Boo Coffee is prized for trending style and super friendly staff. If you look for a romantic atmosphere then this coffee shop might let you down. Boo Coffee is a boiling pot of energy and surprises. Feel refreshing with tea served in bulb-shaped containers or get ready for the next delight with cotton candy bubble tea that will raise your blood sugar levels quickly.
» Orientea – Level 7: It's good to brighten your day at Orientea, the true destination for Japanese and Chinese tea enthusiasts. Different types of teas are kept in separate wooden boxes then well executed by a staff who wants nothing more than to share their love for tea with you. 
5. Hop on a cyclo ride in District 1 Ho Chi Minh City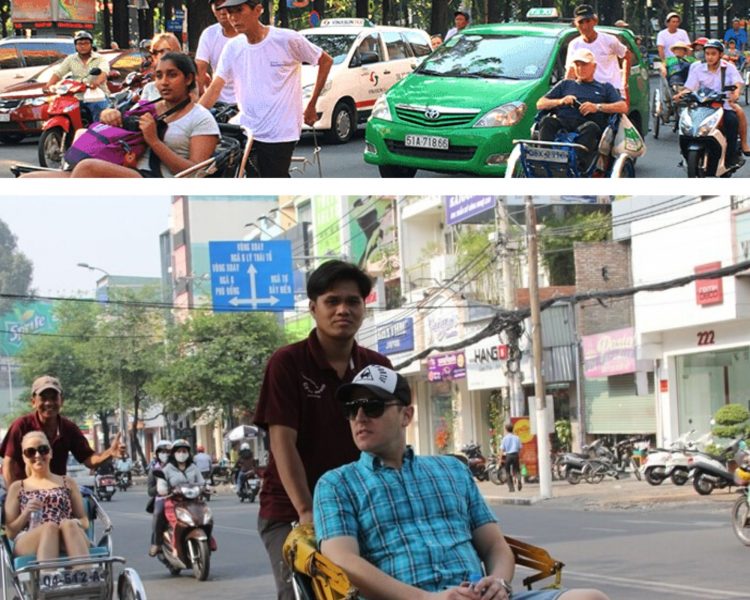 As Vietnamese people embraced the motorbike, cyclos clustered around touristy areas, filled with travellers in big tour groups. If you want to get a taste of the fantastic street view despite the little crazy traffic, your cyclo riders, with limited English yet super friendliness, will ride you wherever you want to show you around the city. If you're excited about understanding the niceties of daily life that give Saigon it's extraordinary taste then the hot weather won't stop you from holding on to your hat!
The cyclo tour moves at a really appropriate pace, and sceneries appearing in front of your eyes are what's exactly on the postcards you often see. While most of the cyclo riders leave good impression on tourists thanks to their hard work and the broad understanding of the city, there are some who trick foreigners for their own sake. Hence, when it isn't hard to get confused by the local Dong and the art of bargaining in Saigon, you should contact a prestige tour operator to plan ahead a comfortable cyclo tour.
# Insider tip: Grab some sunscreen and a bottle of water to staying hydrated during the boiling hot days.
6. Make friends at entertainment complexes
Ho Chi Minh exudes youthful, inventive energy which is created by the young generation. Ever wondered how young Vietnamese spend their free time? Check out these vivacious locations in District 1 Ho Chi Minh City to make some new Vietnamese friends. 
» Saigon Garden – 99 Nguyen Hue:  The very first impression that you will have when visiting Saigon Garden is its charming architecture modelled on European streets with shade trees. It is definitely the green space that differentiates Saigon Garden from the rest of nearby high-rise buildings. The 4-storey building is just like a secret garden with so many things to discover inside. While the ground floor is designated for café and florist's, the rest floors are a melting pot of cuisine from Vietnam, Japan, Korea, and Thailand. 
» Zone 87 – 87 Nguyen Hue: Another instagrammable spot in District 1 Ho Chi Minh City is Zone 87 where you should remember to bring your selfie stick and extra battery pack to snap pics crazily. Stretching an area of over 1,000 m2, Zone 87 has 60 stalls featuring clothes, food and photobooths. Zone 87 represents the 'work hard-play hard' atmosphere that you'd love to experience on your journey to the well-known Nguyen Hue Walking Street. Recharge your full day city tour with many tempting street foods, from noodles, broken rice, BBQ to mixed rice paper.      
»  There VND Then – 99 Nguyen Hue: There VND Then brings you an amazing shopping experience in combining with beauty salon, entertainment and food court through 4 sections: Store, Barbershop, Blackyard and The Heights, satisfying all your needs. You can find ALYX Studios, Yeezy, Mastermind World, Gentle Monster, Heron Preston… The There VND Then has been opened in November 2019, so it will refresh your photo album amazingly.  
7. Learn how to prepare Vietnamese dishes
Eating is an indescribable joy yet it's even more exciting when you can yourself prepare traditional Vietnamese food. If you've had enough of the City Food Walking Tour, choose to have fun, meet new friend and enjoy a new experience by enrolling in a cooking class to learn more about Vietnamese cooking style. 
For most classes, you will be guided to a local market and discover how to choose the best ingredients for your recipes. In addition to awesome cooking lessons, you get to have a once-in-a-lifetime experience with local instructors. When you opt for a cooking class in District 1 Ho Chi Minh City, don't forget to take into account these places.
GRAIN Cooking Studio

, 71-75 Hai Ba Trung, Ben Nghe Ward, District 1  |

Price: VND 1,115,000 for 3 hours 
Vietnam Cookery Center

, 4th Floor, 26 Ly Tu Trong, Ben Nghe Ward, District 1 |

Price: VND 850,000 for 6,5 hours
Saigon Cooking Class by Hoa Tuc

, 74/7 Hai Ba Trung, Ben Nghe Ward, District 1 |

Price: VND 900,000 
M.O.M Cooking Class

: 39A Co Bac, Cau Ong Lanh Ward, District 1 |

Price: VND 851,000 for 3 hours for 3 hours 
Cyclo Resto

: 6/28 Cach Mang Thang Tam, Ben Thanh Ward, District 1  |

Price: VND 813,000 for 3,5 hours
8.  Get lost in the art world in District 1 Ho Chi Minh City
A fantastic approach to Vietnam's arts and culture is to attend a wonderful performance that will spring you a surprise mixed with thrilling and exciting feelings. At the iconic Municipal Theater, you will have a great opportunity to take in the best creative work ever. Though not gigantic in its size compared to other opera houses worldwide, Municipal Theater is surely a place you will find the best performances ranging from ballet and opera to modern dance and musicals. 
Featured performances: 
» A O Show: It's worth giving the best adjectives to praise this amazing show – a combination of acting, martial arts and acrobatic maneuver. You'd love to see the plainest part of Vietnam's people and way of life in contrast to the hustle and bustle nowadays. What impresses most is that the story of history is told through rustic bamboo materials, saying a lot about Vietnamese's unconquerable spirit.
» The Mist: The performance highlights Vietnam as an agriculture-rooted nation. As the neo-classic and contemporary dances are gracefully performed by the professional cast, you're blessed to see how Vietnam grows from a country in difficulty to a dynamic contemporary center. 
» Teh Dar: This masterpiece brought back the free and wild life of Tay Nguyen – the mountain area of Vietnam. In resonating with the cast's dance, the music attracts audience to the world of the heroic land of Tay Nguyen. Choose your favorite seat and you're free to fall in love with the atmosphere that will raise your dopamine levels up.     
9. Party at Bui Vien Street bars
People in District 1 Ho Chi Minh City simply takes pride in the vivid nightlife with endless fun-filled activities for both local residents and foreign tourists. Don't worry about the language barrier, you can find the people living in this area speaking English quite well. The best part? Find a stop on Bui Vien street and drink your heart out at night!
While your legs are still not falling asleep, you can go wild at some of the best bars on Bui Vien Street, having a fantastic sleepless night! Bumpin' music, signature cocktails, dark moody vibe, that's all to feel on cloud nine. When you've had enough indoor atmosphere, bring your drink outside and have the best street treats on offer, talking to the locals about the history of this infamous street.
# Insider tip: That's good to whoop it up on Bui Vien Street but don't forget to check out the neighboring roads De Tham, Pham Ngu Lao, Cong Quynh and Do Quan Dau. Be aware of pickpockets and aggressive drunken tourists.
See more suggestions on Bui Vien hotels and bars.
10. Check-in at Cau Mong Bridge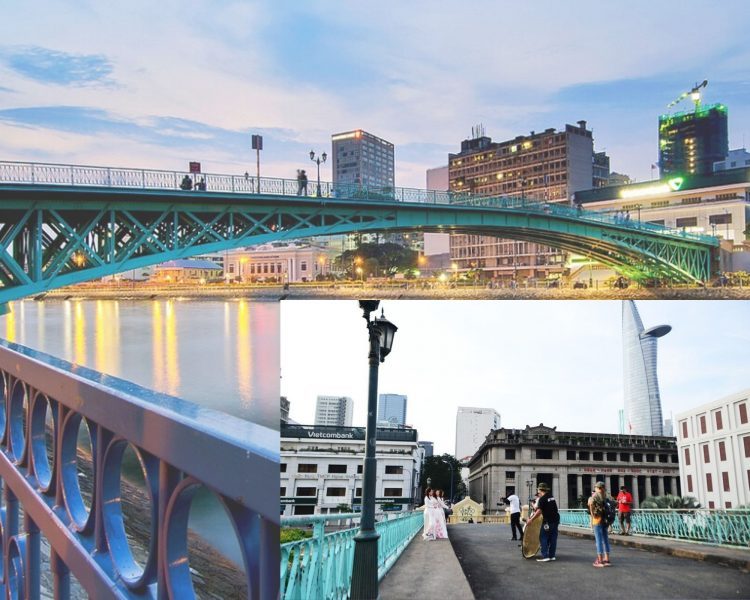 If you're not a type of social butterfly or reveller then are there any quiet corners in the heart of this crowded city for you? Cau Mong is probably your next wonderful option. You can stroll down the banks, breath in the fresh breeze and see many young people chatting to each other. It's time to see the very different aspect of the city, the hidden charm that lies in the simple yet unique things. 
A small adorable bridge stretching over Tau Hu Channel has survived over 100 years boasting its dormed architecture in addition to the exclusive mint tone, spotting a unique cover in the whole city background. If you wanna shoot some vintage-style pics to add in your picture gallery, Cau Mong will give you the best view ever.  
Location: Vo Van Kiet Street – Ben Van Don (bridging District 1 & District 4)
You can see how the city grows fast with a detailed itinerary around District 1, Ho Chi Minh City. While the city center brightens your day with so much fun, you are still guaranteed a chance to see the quietest part of the city if you know how to get there. A city food tour, a cyclo tour or whatever you want for your next stop in Ho Chi Minh City – Contact Maika Tours to experience the ultimate journey with the best local guides.
Trinh Tran 
You Might Also Like: 
5 Best Shore Excursions In Ho Chi Minh City
Five Murals In Ho Chi Minh And Cool Places Near Them
Ho Chi Minh City Cruise Port Guide: Picks For Your Next Stop