24 Hours in Ho Chi Minh City: Things to do in a day
As the second most important city in Vietnam, Saigon is not only a vibrant economic powerhouse, but also a top travel destination. Although many travelers might be put off by the cacophonies and the wild traffic, the city, with its hidden charming corners, never fails to slowly lure you to its exciting funs. 24 hours in Ho Chi Minh City – Give it a chance, and you will certainly not regret it.
Another Asian dragon has awakened! Vietnam, long slumbering, is now one of the top destinations in South East Asia, and possibly the whole of Asia too! This little country in South East Asia never lacks the charm to reel in tourists or backpackers around the world. And one of the best tourist magnets of Vietnam is definitely Ho Chi Minh City. 
Ho Chi Minh is a vast city blending both traditional ways of life and modern elements. It is not uncommon for one to discover a chic modern coffee shop when exploring an old alleyway, hidden away from the hustle and bustle of a big city. It is for this reason that to fully explore the city, you will need time and wanderlust. However, don't be too worried. With 24 hours in Ho Chi Minh City guide, you will be able to experience all the best of Saigon in just one day! 
Start your morning with a bowl of Vietnamese noodles
Rise and shine! Saigon's morning routine is not to be missed! Start your day fresh with a bowl of Vietnamese famous noodles, and the best part is that there are so many to choose from. Pho is definitely the most famous dish representing Vietnamese cuisine, but don't pass the chance to try out Bun bo or My Quang as well, as their delightful taste will certainly kick off your day on a high note. Vietnamese noodles stalls are everywhere across the country, so you won't have to go around for long before you can find your right noodles stall.
» You can try the best Pho at:
Pho Le, 413 – 415 Nguyen Trai, Ward 7, District 5
Pho Hoa, 260C Pasteur, Ward 8, District 3
Pho Thin – Pho Nho, 170 Nguyen Dinh Chieu, Ward 6, District 3 
» Some well-known Bun Bo spots:
Bun Bo Hue Dong Ba, 110A Nguyen Du, Ben Thanh Ward, District 1
Bun Bo Hue Chu Ha, 300 Vo Van Tan, Ward 5, District 3
Bun Bo 31, 31 Mac Dinh Chi, Da Kao Ward, District 1
» Don't forget to check out My Quang at the following stalls:
My Xu Quang, 190 Nguyen Van Thu, Da Kao Ward, District 1
My Quang Pho Thi, 50A Dinh Tien Hoang, Da Kao Ward, District 1
My Quang My Son, 9A Ky Dong, Ward 9, District 3
Marvel at the architecture of the Saigon Notre-Dame Cathedral
The jewel of Saigon lies at its heart, the beloved Notre-Dame Cathedral. Built in 1880 by French colonists, this cathedral is the most faithful witness to Vietnam's turbulent history throughout the 20th century. The cathedral itself was built by imported materials, and the architecture is faithfully French, reminding sightseers of the grand cathedrals in Europe. As you visit one of the best Catholic churches in Ho Chi Minh City, don't forget to take a moment to enjoy the surrounding park, which is teeming with youths and visitors, giving you the perfect glimpse into Vietnamese everyday life.
» Address: 1 Cong Xa Paris Street, Ben Nghe Ward, District 1
Catch a glimpse of Vietnam's history at Independence Palace
The Independence Palace is within walking distance of the Cathedral, allowing you to tour it without having to move much. Situated right at the heart of the city, the Independence Palace was the headquarter of President Ngo Dinh Diem until his death in an assassination. It is also the witness of a significant moment in Vietnam's history: the moment of reunification, as a tank from the North Vietnamese army crashed down the gate, leading soldiers into the building, where South Vietnamese leaders were waiting with an offer to surrender.
A stroll around the palace seems very much like a walk back in time, as the souvenirs of war, such as the very tank that crashed down the gate, are still well-preserved. If you are a fan of the city's rich history, this location is a must-have on your itinerary.
» Address: 135 Nam Ky Khoi Nghia, Ben Thanh Ward, District 1
Shop like a local at Ben Thanh Market
Known as the central market, and probably one of the oldest markets in the city, Ben Thanh Market is a well-known tourist destination which guarantees some of the best handicrafts and artisan goods in town. Whatever artisan good or Vietnamese dish you want to try out during your trip to Vietnam, this market has it all. Another great plus is that most shopkeepers know English well enough to barter with foreigners, so you don't have to bring along your interpreter every time you go to the market. However, the market is also quite infamous for dishonest sellers, so you should ask your local guide the prices for local products before you set out on your shopping spree. 
» Address: Le Loi Street, Ben Thanh Ward, District 1 
Stroll around Dong Khoi Street and do some shopping
Dong Khoi Street is probably one of the most important streets in town. Running parallel to Nguyen Hue Street, this historic corner of the city serves as its beating heart, and its most famous shopping quarter. Situated on the street are boutiques from the top luxury brands around the globe, letting you have your most satisfying luxury shopping experience ever. As you stroll around the quarter, don't forget to visit local handicraft shops to find the perfect souvenir for friends and family. If the walk wears you down, take a seat at Brodard Restaurant, a recently-reopened restaurant which has had considerable renown since the early days of Saigon.
A great plus when you are visiting Dong Khoi Street is that the city's Opera House is within a walking distance. Another magnificent French colonial architecture marvel, The Opera House hosts some of the best concertos and musicals in town, so it's a must-see in your 24 hours in Ho Chi Minh City if you are a fan of music.
Make the most of 24 hours in Ho Chi Minh at Cu Chi Tunnel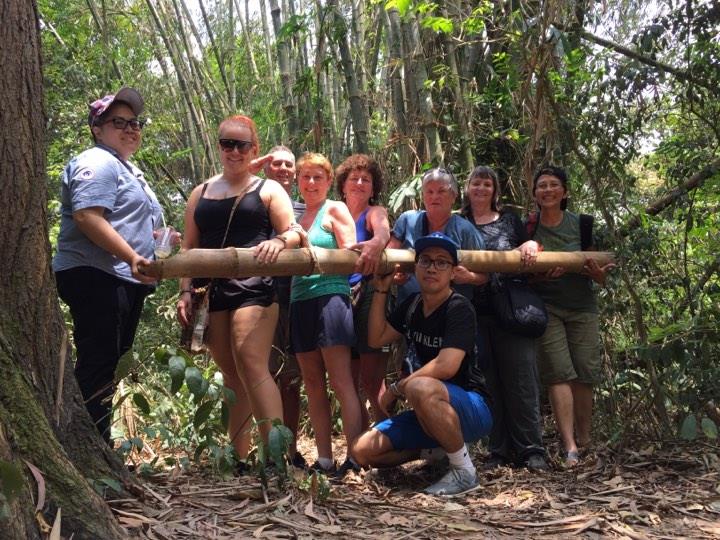 Take the bus away from the city centre for a little bit, and you have arrived at Cu Chi Tunnel, a must-see landmark for any tourist to the city. Built by the Vietcong during the Vietnam War, this tunnel serves as the base of operation for local troops during their quest to reunite Vietnam. The tunnel itself is not a single tunnel. In fact, it is an intricate system of tunnels and caves which served its function perfectly well, providing both accommodation and hiding spots for local troops. Traversing through the tunnel feels so much like a trip through time, with most of the tools and utensils still intact and well-preserved.
If you don't want to look hard to find way to Cu Chi Tunnel or don't know what to do there, just contact us for a thrilling Cu Chi – Ben Dinh Tunnels Tour
Visit the city's unique Chinatown at Cho Lon
Cho Lon is the Chinatown of Saigon, also one of the largest of its kind in Vietnam, and it is here that you will find one of the most unique vibes around town. Chinese Vietnamese have had a long history in Saigon, and it is believed that they have been staying in the city since the 18th century, so their influence can be found throughout the city, and particularly in Cho Lon. As you stroll around the quarter, take a minute to appreciate the beauty of Thien Hau Temple in its Chinese-influenced architecture. If you do have ample time, don't forget to check out Bình Tây market at the centre of the Cho Lon area. You will find a wide variety of items to your liking, especially if you are into Chinese spices and ingredients.
Speaking of Chinese cuisine, the Cho Lon area is arguably the best place to try out Chinese foods in the whole of Saigon! Some local dishes you just have to try are dumplings, dim sum, and Chinese noodles. They will certainly fill up your belly and prepare you for a wild night out.
Chinatown consists of the western half of District 5 as well as several adjoining neighborhoods in District 6 and District 11.
Enjoy Saigon's amazing nightlife
Saigon is an energetic city, so its nightlife is an amazing wonder in itself. In fact, as the sun goes down and the street lamps light up, Saigon springs into its wild-yet-discrete nightlife. Unlike in Western countries, Saigonese tend not to go to the discos with their friends at night, preferring quieter corners such as cafés or teahouses. If you are a quiet type who just wants to enjoy the company of your friends in quiet, then these locations are definitely for you. One of the most notable cafes in town is The Coffee House, a local coffee chain that is akin to Starbucks in the country.
If you are looking for some loud music instead, then the city still has something up its alley for your 24 hours in Ho Chi Minh City! Bui Vien Street is a known quarter for loud music, great beer, and generally boisterous nights with so much excitement to keep you from falling asleep. This is also an ex-pat quarter, so chances are you will meet a lot of new friends of your nationality, doubling the fun! There are lots of bars for you to enjoy, but among the most famous ones is Boheme, a bar that has recently become a big hit with local youths. However, do take care to keep your possessions with you all the time, and don't carry expensive items with you, since pickpockets are known to be active in the area. Fights sometimes break out as well, so it's important to avoid crowded pubs that might potentially become the spot for the next bar brawl.
Actually 24 hours in Ho Chi Minh City cannot do justice to its many lovely landmarks. That is why it's always better to at least stay in the city for two days to fully enjoy its beauty and live like a local. If you are looking for the best tours in Saigon, we got you covered! Don't hesitate to contact us for more information!
Viet Nguyen
You Might Also Like:
Six Artisanal Coffee Spots In Ho Chi Minh City
10 Best Restaurants In Ho Chi Minh City