5 Best Shore Excursions in Ho Chi Minh City
Welcome to Ho Chi Minh City, a vibrant cultural and economic hub in Vietnam! Ho Chi Minh City, also lovingly known as Saigon, is one of the most visited destinations in the entire country. Travelers around the world loved and appreciated this city thanks to its unique East-West and old-new fusion vibe. It is very popular for cruise ships to dock and Ho Chi Minh shore excursions are very attractive too. 
Every once in a while, your cruise ship will stop at certain ports for repair purposes or for refueling. These stops present themselves as great opportunities for you to explore the nearby cities while it is docking. These shore excursions will not only give you a glance into the local way of life but will also spare you all the paperwork of getting an appropriate visa to enjoy the shore excursions.
There is so many things to do in Ho Chi Minh which would probably take a week to fully explore the nuances of the city! If you are worried about not having enough time to fully explore Ho Chi Minh City, don't be! Choosing one of these 5 shore excursions, you will be able to catch a very panoramic glimpse of its people, culture and beautiful spots to amaze you during your short time here. 
1. Ho Chi Minh City Private Tour
This is a great tour for those who have just arrived in Ho Chi Minh City and who want to see the best of it without any constraint. The tour will take you through famous landscapes such as the Ben Thanh Market, War Remnants Museum, and the Notre Dame, giving you an overview of the city, its people and its overall vibe. This shore excursion departs from Nha Rong Port, Phu My Port, Hiep Phuoc Port, and Phu Huu Port.
Start your shore excursion in the morning at the busiest hours of Ben Thanh Market, a French Colonial market which doubles as the beating heart of the city cultural life. At Ben Thanh Market, you will have the chance to be close and personal with the local way of life and buy locally-sourced trinkets and souvenirs. Next, the shore excursion takes you on a journey through other famous landmarks such as the War Remnants Museum, where the horror of war is laid bare to the public's eye, and the Notre Dame, a historic landmark which was constructed by French colonists, and many more locations. Finally, the shore excursion concludes with an optional visit to Level 23 Signature, one of the most upscale bars in the city, where you can view the city's skyline as the sun goes down.
2. Cu Chi – Ben Dinh Tunnels & War Remnants Museum Tour
If you are into the history of Ho Chi Minh City, this shore excursion is a must-not-miss! Featuring both the Cu Chi – Ben Dinh Tunnels and War Remnants Museum, this tour will give you the most comprehensive look into the city's turbulent recent history as well as the horrors of war which haunted thousands of Vietnamese throughout the war. This shore excursion will be available from Nha Rong Port, Phu My Port, Hiep Phuoc Port, and Phu Huu Port.
Cu Chi Tunnels refers to an intricate system of tunnels beneath the commune of Cu Chi, where there were some really intense fighting between the South Vietnam Army and the Vietcong. These tunnels were dug as a measure to provide lodging, bases of operation, and hiding spots for Vietcong guerrillas during the war. In this tour, you will be given the chance to relive the life of these soldiers by squeezing yourself into tunnels of just 100-meter in width, discover the hidden chambers and kitchens, or simply enjoy the same kinds of food which the Vietcong ate during the war. Then, you will have the chance to catch a glimpse into the locals' way of life by visiting a local family, where you could take rice paper lessons! Afterwards, you will head to an off-the-beaten-path local rubber taping facility to witness how locals produce latex out of the rubber tree. Finally, the shore excursion ends with a trip to the War Remnants Museum, where you will be shown the true horrors of war which did happen over the course of the Vietnam War. The objects at the museum might be somewhat disturbing, but they will offer you a whole new perspective on the War and the Vietnamese people. After this destination, you will return to the port to proceed with the cruise.
3. Private Cu Chi Tunnels and Ho Chi Minh City Highlights
This shore excursion will give you a comprehensive look at Ho Chi Minh City  finest highlights, from Cu Chi Tunnels to the Notre Dame Cathedral, in just one package. This shore excursion is available from Nha Rong Port, Phu My Port, Phu Huu Port, and Hiep Phuoc Port.
The excursion starts at Cu Chi Tunnels and will go through the local farm as well as the rubber plantation and War Remnants Museum just like the previous one. The difference is that this shore excursion will allow for some extra time to explore the best of Ho Chi Minh City. You will be taken to visit the best French-colonial architecture in the city, including the Notre-Dame Cathedral, the General Post Office, the City Hall, and many more! This shore excursion will allow you to truly live in Ho Chi Minh City in a day and enjoy the best it has to offer.
4. Mekong Delta Private Tour
There is much more you could do if you could leave Ho Chi Minh City to the outlying regions, and this Mekong Delta Private Tour will be the perfect one for you should you are looking for the perfect break away from big cities! The shore excursion will be available from Nha Rong Port, Phu Huu Port, and Hiep Phuoc Port. Please be noted that it is limited from Phu My Port. You just can do if your ship docks here for nine or ten hours.
The Mekong Delta is a vast wetland teeming with activities and landmarks. You will embark on your journey from Ho Chi Minh City to the vast fields of the Mekong Delta on an air-conditioned vehicle. As the car speeds on, take all the time you need to appreciate the breathtaking scenery of vast and endless rice paddy fields which seemingly runs on to the horizon. Your first stop will be at Cai Be Floating Market, an interesting sight in this region of Vietnam. The Mekong Delta is a wetland, for the most part, so there are countless rivers here. For this reason, the locals would meet on floating markets instead of land ones. At Cai Be Market, you will see hundreds of ferries carrying fruits, vegetables, foods, etc. banding together for bartering and trading, creating a unique bustling scene that is difficult to find in any other country. As you leave, don't forget to buy along something to eat or a souvenir!
Next, you will leave for Tan Phong Island embark on small ferries and enter small canals, where you will get up close and personal to the locals' way of life and will be treated with South Western Traditional Music, a local cultural heritage. Finally, the locals will invite you to lunch so be prepared for an authentic taste of Vietnam Southwestern cuisine! We will then make our way back to the port to make sure you will not be late for its departure.
5. Best of Vung Tau Private Tour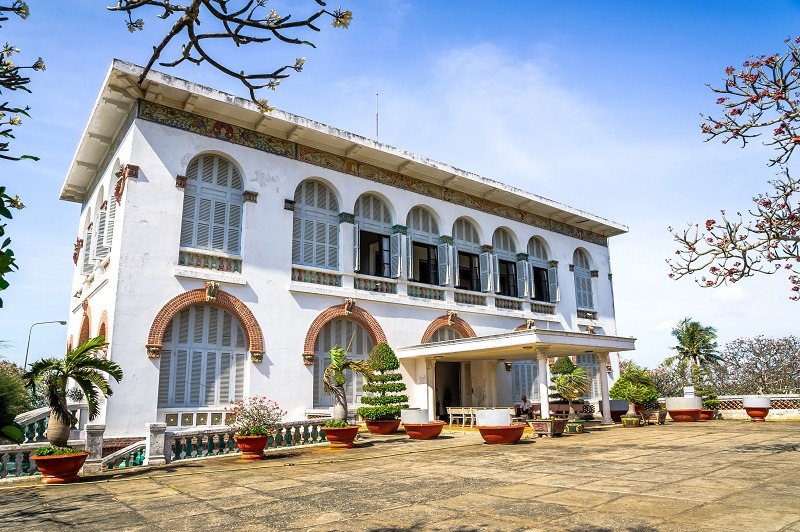 With this shore excursion, you will be treated with the best of Vung Tau, the most famous beach in the South of Vietnam. This shore excursion is only available from Phu My Port.
Vung Tau consists of beautiful beaches with sandy and sunny shores, perfect for you to take your mind off of every bad thing in life and enjoy the view for just a second. You will begin your excursion with a tour around Vung Tau, where you will enjoy the local sandy beaches. Then, the group will make its way up to Mount Nho, where you can climb up the statue of Christ the King and treat yourself with a breathtaking panoramic view of the city and its islets. Then, you will enter the Pagoda of Nirvana, which houses a Buddha statue of 12 meters in height, making it one of the most impressive Buddha statues in Vietnam. Afterwards, it's lunchtime! We will treat you lunch at one of the most famous seafood restaurants in the area, where the seafood could not be fresher! Then, the tour group moves on to the White Palace, a French-colonial palace which once belonged to King Bao Dai. Finally, the group stops at the Whale Temple, where local fishermen pray for safety on their fishing trips. This spiritual destination will certainly be a fascinating destination for those interested in local religious beliefs.
Shore excursions are fun and exciting ways to explore the country your cruise is stopping at. If you want to book for the best shore excursions, don't hesitate to contact us at Maika Tours now to receive the best recommendations!
Copyright 
© Viet Nguyen written for Maika Tours