7 Best Catholic Churches in Ho Chi Minh City
Thinking of a Catholic church in Ho Chi Minh City, you might reminisce about the glorious Notre-Dame Cathedral straight away. Famous churches in Ho Chi Minh City, however, offer more than one symbolic church that visitors should add in their itineraries.  
If you wish to drink in the very different aspect of 'Pearl of the far East', why not choosing some famous churches for your next destination? While some are dominated by classical Gothic architecture, there are certain churches that contain localized characteristics. From the lovely pink church to the Chinese style one, here are 7 Catholic churches to perfect your journey.
1. Duc Ba Church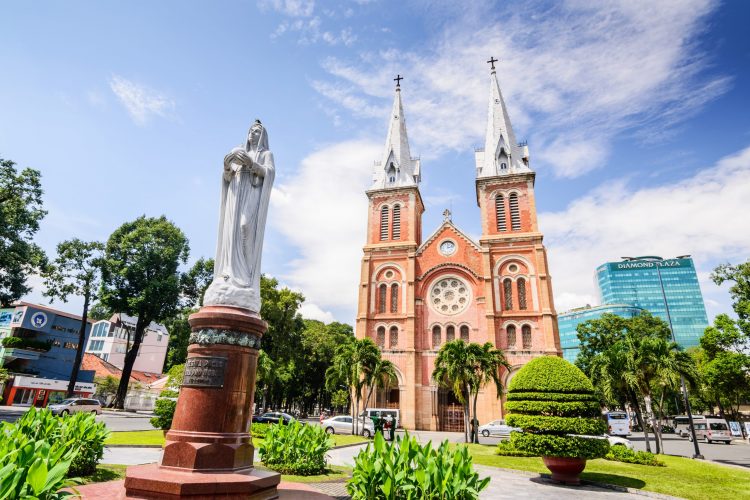 Right in the heart of District 1 is Duc Ba Church or Notre-Dame de Saigon Cathedral to be exact – one of the most ancient Catholic churches in Ho Chi Minh City. That's why so many insist that if you don't go to Notre-Dame Cathedral, you have not visited this alluring city. Apart from Independence Palace, just take a shot around the church and your trip will immediately brighten up.
This famous Catholic Church is a true architectural work with its best values lying in history, architecture and construction. Modelled on the significant Notre-Dame de Paris, Notre-Dame de Saigon was built with all original building materials imported from France. Some tiles have been made in Ho Chi Minh City to replace the tiles that were damaged by the war.
The first time you see the church, all the things you have ever heard about it come alive and WHAT A PLACE! The church, with 12 main columns along the wall, can hold up to 1,200 visitors. What makes Duc Ba Church stand out is the lighting system that is powered by electricity at night time while the church itself can get natural light through colourful windows and ventilation holes.
2. Cho Quan Church
The church was first built in 1700 when a group of Catholics in Cho Quan was established. Through many renovations, Cho Quan Church, which you see nowadays, was built by Father Nicolas Hamm in 1882 and officially opened in 1896 with a capacity of 1,500 visitors.
Cho Quan Church hides in Gothic architecture with red roofs, stretching over an area of approximately 16,000m2. The front view follows Gothic style with sharp-edged domes elegantly rising up to the sky. The church is surrounded by small green gardens that make it look even more enormous.
The first impression you might have right after entering this Catholic church is its light, youthful colours that are leveraged to highlight the whole architecture. Simply visit the church as a passer-by or a true prayer, you all definitely feel peaceful and secured in your soul.
3. Tan Dinh Church
Looking for a famous church in your Ho Chi Minh City tour, you should not skip the one that is located in District 3. With its extraordinary pinkish theme, Tan Dinh Church can be easily recognized from afar. As many visit the church not for the practice of religion solely, the church is also ideal for shooting, especially among teenagers.
Spanning 60 metres in height, Tan Dinh Church is considered the second biggest church in Ho Chi Minh City, after Notre Dame Cathedral. The gigantic bell tower at the front makes itself look just like a path connecting the ground and the sky.
When you have already taken enough photos of the outside, just go further inside this Romanian-style church. A blend of Gothic and Renaissance elements would bring you back to the past as the historical atmosphere fills everything.
4. Cha Tam Church
The church is located in China Town to serve Chinese Catholics in mainly District 5, Ho Chi Minh City. This place, therefore, is wonderful for those who wish to discover deeply into Chinese culture right in the city of Saigon.
The church, named after Cha Tam (priest Pierre d' Assou), is a unique combination of typical Gothic and Chinese style. The entrance is immediately recognized with common Chinese pagoda-style – "three-door entrance". Just after the entrance stands the statue of Santa Maria in a space that is very similar to Chinese small shrines.
Chinese culture manifests itself in the vast of the architecture. So amazed is just what you are when seeing the image of lotus on the roof of the church.  But the two paintings on scrolls on both sides written in kanji would stagger you more. Take it easy! The church inside is back to the common Gothic style that has dominated the majority of Catholic churches.
So next time, if you want more surprise, just get to District 5 to find a Catholic church with Chinese style, right in Saigon.
5. Huyen Sy Church
The church was built through the beneficence of Huyen Sy, a wealthy man in Saigon who donated his land and 1/7 of his property to the church construction. Huyen Sy was said to be a grandfather of Queen Consort Nam Phuong and one of the richest men in the south during the end of 19th century.
After Huyen Sy and his wife passed away, they were buried in the axial memorial chapel behind the chancel. Busts of them were put on the top of the finest marble tombs to honor their contributions to the church building.
The church is surrounded by ample trees, which makes it possible for tourists to escape from the boiling heat of Saigon, especially in the summer days. In front of the church is the giant statue of St Matthew Le Van Gam, who was beheaded since he opposed to orders from the Nguyen Dynasty.
In addition to Gothic with Romanesque decorative elements, main pillars were panelled with Bien Hoa marbles. The main bell tower is 57 metres high, including the cross and Gaulois statue. Further inside the church are windows made of Italian stained glass, with images of Bible stories engraved on.
6. Jeanne D arc Church
Another pinkish church in Ho Chi Minh City must be Jeanne D arc Church or widely called as Nga Sau Church ("nga sau" comes from the 6 streets that cross each other in front of the church). The church featuring Gothic architecture of Europe was built from 1922 to 1928 by Father Juan Baotisita Huynh Tinh Huong.
Turning back to the past, the church was literally located in the "graveyard" since the price land of this area was cheaper. But nowadays, no creepy stories are told as the church is decorated with bright colours and green rows of trees in the neighbourhood.
7. Ky Dong Church
Ky Dong Catholic Church in Ho Chi Minh City is just a common name people often call it, but not many know that the church is officially named Temple of Our Lady of Perpetual Help or Church of Congregation of the Most Holy Redeemer. As a peaceful and sacred place in District 3, Ky Dong Church impresses all visitors with its triangle blocks and semicircular door arches. The design of the church is simple with a mixture of modern and traditional Roman style.
Different from the mass of churches that embrace the classical style of French Colonial, Ky Dong Church takes in neoclassical architecture, which is rarely found in other similar buildings. All sides of the church are not filled with elaborate textures, but the whole architecture still creates stunning visual effects with simple yet harmonious geometry which are mainly made up of triangles and circular arches.
The simplicity itself makes even greater solemnity. The interior space of the church is very open as there are no rows of heavy columns. Apart from the main building, there is also the rock cave of Eve Maria and the Saint Alphonso mini-scene that can be seen right behind the entrance.
Not a Catholic, you'll still find a place to discover more about Saigon in this church. On Christmas Days, you can see the place gets 'hotter' as the citizen flocks to the church to see colourful Christmas ornaments which are sold in small stalls in the church precinct.
If you don't want to look hard to find the way to famous church in Ho Chi Minh City, Maika Tours will guide you to a wonderful trip of the most elegant architectural heritage these churches have to offer. Contact us now to discover a great deal to see and do in Ho Chi Minh City.
Trinh Tran
You Might Also Like: 
Ten Places Unseen In Ho Chi Minh City
Christmas In Vietnam: Where And How To Heat It Up?
Six Artisanal Coffee Spots In Ho Chi Minh City