8 Essential Museums in Ho Chi Minh City
Ho Chi Minh City is no doubt a true thrill for art, culture and history cravers. If you visit this lovely city then there are some essential museums in Ho Chi Minh City that help for creating your perfect journey. 
Never dismiss museums just because thinking they're boring and wondering what the appeal is. Visiting museums will help you absorb some local colors and intensify your experience with deep understandings of the history of Ho Chi Minh City. Let's delve into the list of essential museums in Ho Chi Minh City right down below.
List of essential museums in Ho Chi Minh City
Immerse yourself into exciting history, fine works, and costumes. Here are some of the best museums in Ho Chi Minh City you should never miss on your itinerary.
1. War Remnants Museum
Any museumgoer has to pay a visit to the War Remnants Museum in District 3, just northwest of the Reunification Palace. The museum exhibits evidence of war crimes in Vietnam and their consequences, with the aim of promoting peace all over the world. Through well-arranged exhibits of pictures, documents, and artifacts, the museum is like a live witness of the Vietnam War. 
The War Remnants Museum in Ho Chi Minh City is housed in a three-floor building, featuring seven permanent exhibits. Outside the museum is a respectable collection of jet fighters, aircraft, tanks, and bombs. Each floor inside tells different stories themed Vietnam War, from "International support for Vietnam in its Resistance War" on the ground floor, "Aggression war crimes" on the first floor to "Requiem – The Vietnam War Collection of photographers who died in Vietnam and Indochina" on the second floor.  
Don't forget to check out at some souvenir shops inside the museum to bring back home some books, postcards, and unique keyrings made from ancient bullet casings. 
» Address: 28 Vo Van Tan, Ward 6, District 3
» Opening hours: 7.30 AM – 4.30 PM daily  
» Entrance fee: VND 40,000/pax
Explore Private Cu Chi – Ben Dinh Tunnels & War Remnants Museum Tour – Shore Excursion 
2. Ho Chi Minh City Museum
The neoclassical structure once served as Gia Long Palace and Supreme Court, is now functioned as the Ho Chi Minh City Museum, dedicated to the history and development of the city. With nine permanent exhibition rooms, the museum brings you back to glorious periods of the past. 
Some of the best collections include Nature-Archeology, Geography and Administration, Industry and Handicraft, the Revolutionary Struggle 1954-1975. While touring the museum, visitors encounter many intriguing artifacts in the surrounding corridors on both lower and upper floors. Behind the museum building is the rear garden where you will find an impressive collection of tanks, cannons and motor vehicles. 
The museum, not only a place for local students to learn about the history of Ho Chi Minh City but also a perfect couple-shooting spot. Just take a moment to view the main lobby with its grand central staircase, you can see some couples prepare for their wedding photographs. 
» Address: 65 Ly Tu Trong, Ben Nghe Ward, District 1
» Opening hours: 8.00 AM – 4.30 PM daily   
» Entrance fee: VND 30,000/pax
3. Ho Chi Minh Museum (Nha Rong Harbor)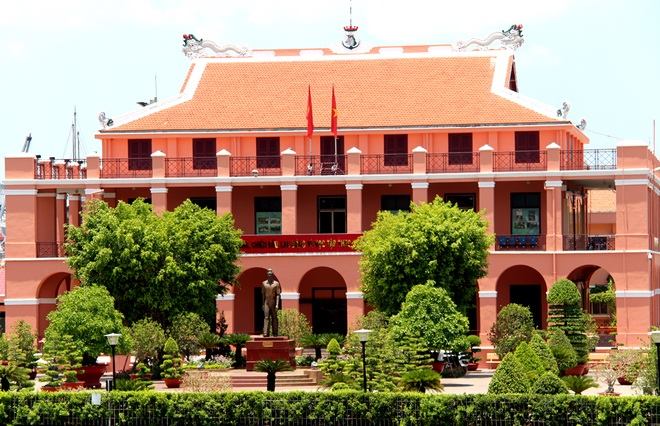 Just don't confuse the Ho Chi Minh Museum with the Ho Chi Minh City Museum above. The former one is a part of Nha Rong Wharf or Nha Rong Port where President Ho Chi Minh embarked abroad to seek a path to national salvation.
Covering up to 148,000 square meters with nine exhibit halls, Ho Chi Minh Museum is just huge enough to showcase all valuable information about Ho Chi Minh's life and his thoughts. The museum, as a branch of Ho Chi Minh Museum, has a long story to praise the significance of Ho Chi Minh towards his nation.    
Setting foot on Nha Rong Wharf, you can adore its one-of-a-kind architecture. The two dragon-shaped ceramic on the rooftop is easily recognised from afar. From this can you take a panoramic view of the Saigon River or come up with fantastic ideas for a Saigon dinner cruise?
» Address: 01 Nguyen Tat Thanh, Ward 12, District 4
» Opening hours: 8.00 AM – 4.30 PM daily   
» Entrance fee: VND 30,000/pax
4. Vietnam History Museum 
There's no better way to know Vietnam's history than to visit the Museum of Vietnamese History. The museum tells the story of the thousands of years of Vietnam's history through the brilliance of artifacts and displays. The delicate arrangement of relics and sculptures makes your visit be like a journey back in time to see Vietnam from the Bronze Age to the Nguyen Dynasty. 
As a symbol of the Indochina architectural style, the Museum of Vietnamese History is prominent with classical Chinese roofs just like many ancient temples and pagodas in Ho Chi Minh City. The French influence's style is not less significant, though. The moss-covered walls simply intensify the marks of time on the building.  
In addition, the museum once used to be the only building stand still amidst the wild forest – later known as the Botanical Garden and Zoo. Within a few walking steps, you can explore the fantastic world of flora and fauna right in the heart of Ho Chi Minh City. Just be prepared that this area is normally crowded and noisy on weekends.
Address: 2 Nguyen Binh Khiem, Da Kao Ward, District 1
Opening hours: 8.00 AM – 4.30 PM Daily   
Entrance fee: VND 30,000/pax
5. South Vietnamese Women's Museum 
The museum, just as its name suggests, is dedicated to the accomplishments of Vietnamese women. Including a library with around 10,000 books and an area of 3,162 meters with eight spacious exhibition rooms, the South Vietnamese Women's Museum represents the life of Vietnamese women through their daily activities and costumes. 
Right on the first floor, you will see the traditional crafts and various collections of Ao Dai of Southern Women. Their daily life is highlighted with the exhibits of rural markets, wedding ceremonies, and house decorations. With the other two floors, you can recognise themes on Vietnamese women during wartime – the fighting of Southern Women against the US and France. 
You might have heard a lot about Vietnamese women's spirit, but once getting directly to the museum, you would know that the feminist heroes are not just straight out of a dramatic film. Plus for this museum – the signage is available both in English and French, and the entrance fee is totally free.
» Address: 202 Vo Thi Sau, Ward 7, District 3 
» Opening hours: 7.30 AM – 5.30 PM daily   
» Entrance fee: Free of charge
6. Fine Arts Museum
The Ho Chi Minh City Fine Arts Museum, known as one of the largest fine arts centers of Vietnam, was constructed as the family residence of one of the city's richest men in the late 19th-century. This is where typical fine artworks of Ho Chi Minh City and the southern provinces are collected, preserved and displayed. 
The yellow-white colonial mansion is recognised for its subtle fusion of oriental and western art décor elements. Let alone the world of fine arts inside, the prominent architecture of the building has already captured any aesthete's heart. The mansion building comprises three floors of exhibition space. 
You can walk through the evolution of art on each floor: The first floor – Vietnamese and international arts display, the second floor – paintings, sculptures and lacquerware by leading southern Vietnamese artists, the third floor – historic arts featuring earlier civilizations. Surprisingly, the most striking story about this museum is a rumor that the mansion building was haunted by the ghost of a woman.
» Address: 97A Pho Duc Chinh, Nguyen Thai Binh Ward, District 1
» Opening hours: 9.00 AM – 5.00 PM Tue-Sun, closed Mon  
» Entrance fee: VND 30,000/pax
7. Ao Dai Museum
The Ao Dai has been synonymous with the beauty of Vietnamese women, expressing the identity and spirit of Vietnam. The Ao Dai Museum in Ho Chi Minh City highlights the charm of this traditional long dress, its meaning to Vietnamese culture, and its crucial transformation over years.
This is a private museum, established by the famous designer-artist Sy Hoang. The exhibition area is mainly located in a long ancient wooden house. Walking inside you can see the development of the Ao Dai linked to the growth of the country. There is a huge collection of Ao Dai donated by well-known actresses, diplomats, doctors, professors, and designers.  
Actually the Ao Dai is within a larger complex that is much akin to an ecotourism spot. And that is needless to say that you should not skip the photo opportunities there. Brighten up your day with some shots of Vietnamese countryside featuring the old temple, river, and the "monkey bridge". You are definitely granted more than a chance to learn about culture and history with a day at this museum.
» Address: 206/19/30 Long Thuan, Long Phuoc, District 9
» Opening hours: 8.00 AM – 4.30 PM daily   
» Entrance fee: VND 100,000/pax 
8. Artinus 3D Museum 
A hidden destination away from the city center's focal spots – Artinus 3D Museum is an incredibly new contemporary world that amazes any aesthete. This museum is home to hundreds of 3D artworks, making it the largest 3D museum in Vietnam.    
Just imagine you are lost in the world of hallucination. Swimming with sharks, fished by a cat, going straight to Van Goh's famous paintings – all is possible when you find the proper angle to take a snapshot. To get the best photos with good 3D effects, you should stand right on the marked photo points. 
A visit to Artinus is completely worth if you look for something more exciting than ordinary museums in Ho Chi Minh City. This is where your imagination and your pure acting will give no less than thousands of Likes. 
» Address: 02-04 Street No.9, Tan Hung Ward, District 7  
» Opening hours: 9.00 AM – 6.00 PM Mon-Fri, 9.00 AM – 8.00 PM Sat-Sun  
» Entrance fee:  VND 200,000/pax Mon-Fri; VND 250,000/pax Sat-Sun
Any Ho Chi Minh City Tour would be incomplete without a visit to one or some essential museums in Ho Chi Minh City. Bringing home some memorable experiences at these museums, you will be in awe of what this city has to offer.
© Copyright
Trinh Tran written for Maika Tours
You Might Also Like: