8 Must-See Temples and Pagodas in Ho Chi Minh City
Ho Chi Minh City is without a doubt famous for French colonial architecture, historic sites, and exotic street food. There are plenty of others that deserve just as much attention! Temples and pagodas in Ho Chi Minh City will certainly urge you capture for a lifetime. 
While Thailand is considered as the "Golden Pagoda Land", travelers have so many opportunities to discover other splendid pagodas in its neighboring country – Vietnam. Here are some of Ho Chi Minh City's most jaw-dropping ancient temples and pagodas which invariably leave visitors in awe. 
1. Jade Emperor Pagoda 
Located in the heart of District 1 Ho Chi Minh City is the Jade Emperor Pagoda or Ngoc Hoang Pagoda. This place houses around 300 ancient statues and 100 carved wooden panels and antithetical couplets in Chinese. What makes this religious architecture really stand out is the blend of quintessence and sacredness. The pagoda well keeps its spiritual values over the years, bewitching thousands of visitors including the Former US President Barack Obama who made his official visit to Vietnam in 2016.    
The Jade Emperor Hall is where Taoist deities such as the Jade Emperor, Buddhas and Bodhisattvas are worshipped. In front of the pagoda lies a small lake of lotus blooming, which highlights the whole area. In the lake, there are a great number of turtles, up to thousands of creatures which are set free. Locals come to this pagoda, especially on Tet Holiday, hold the strong beliefs of good love life and children. Travelers, even not Buddhism or Taoism followers, still enjoy the magnificent scene and photo opportunities here.  
» Address: 73 Mai Thi Luu, Da Kao Ward, District 1 
» Opening hours: 7.30 AM – 7.00 PM
» Near-by attractions: Ben Thanh Market, Notre Dame Cathedral, Reunification Palace
See more on 7 Best Catholic Churches in Ho Chi Minh City
2. Thien Hau Temple
Constructed in 1760, Thien Hau Temple is a Buddhist temple dedicated to the Chinese sea goddess, Mazu. As one of the main attractions in Cho Lon Quarter (Saigon Chinatown), Thien Hau Temple are usually refered to as Cho Lon Mazu Temple. One of the most important festivals held in the temple is the one taking place annually on the 23rd of the third month in the lunar calendar. 
Visitors are easily captivated by the temple's exterior thanks to the unique Chinese architecture featuring curvy roof on which small porcelain figures stands. Getting inside, you should not skip even the small corners of this temple as there is a respectable collection of sculptures, statues and artworks theming Chinese religion and legends. 
» Address: 710 Nguyen Trai, Ward 11, District 5
» Opening Hours: 8.00 AM – 4.30 PM
3. Xa Loi Pagoda 
Want something different from ordinary tourist spots then you should opt for a visit to a pagoda, and want something different from familiar pagodas then you should plan a trip to Xa Loi Pagoda. The pagoda named Xa Loi means Sarira (Buddhist relics), including a ceremonial hall, bell tower and several statues. This was the first pagoda in Vietnam to be built in a contemporary architectural style. 
Xa Loi Pagoda was the site of several self-immolations by monks protesting against the Diem regime and the American War. Thich Quang Duc's self-immolation in 1963 took place just a few blocks away from the pagoda. Entering the main ceremonial hall, you have to go to the first level of the tower by stairs: Women enter on the stairs to the right and men on the left side. 
» Address: 89 Ba Huyen Thanh Quan, Ward 7, District 3 
» Opening hours: 7.00 AM – 5.00 PM
4. Vinh Nghiem Pagoda
Vinh Nghiem, literally "Ever Solemn" – one of the biggest pagodas in Ho Chi Minh City is tucked close to the center (15-minute drive from Bui Vien Walking Street and the same amount of time from Tan Son Nhat International Airport). This masterpiece embraces traditional Vietnamese architecture with a touch of modern Japanese-inspired style, making it one of the most Instagrammable spots in Ho Chi Minh City.  
With a giant sanctuary and a 7-floor tower, Vinh Nghiem Pagoda is proudly home to many tourists to pay homage to Siddhartha Gautama and Samantabhadra. For those who wish to see how locals praying for luck at this pagoda, the 15th of every lunar month or the Lunar New Year is the best time. Yet if you want more of a laid-back sanctuary, plan to visit in the early morning to avoid big celebrations as well as make the most of photo opportunities there.   
» Address: 339 Nam Ky Khoi Nghia, Ward 7, District 3 
» Opening hours: 6.00 AM – 8.00 PM
5. Viet Nam Quoc Tu Pagoda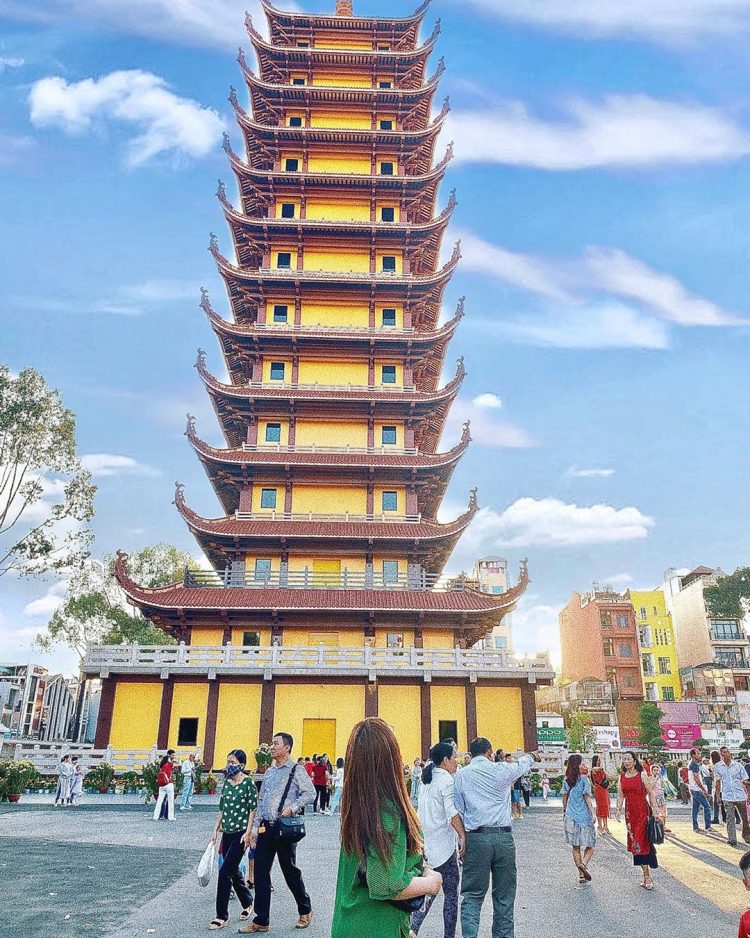 If you are up for tourist attractions near Ho Thi Ky Flower Market, head to the symbolic Viet Nam Quoc Tu Pagoda on 3/2 Boulevard. The 7-storey pagoda with colorful, oversized statues of religious figures opens up its 3rd and 7th floors to the public on the 1st and 15th of the lunar month while the first two floors welcome guests on usual days. 
What you can expect from this giant pagoda is not only a wonderful religious site but also a fabulous architectural building. In front of the main sanctuary lies a spacious yard where there are many statues of Avalokitesvara, Maitreya, and Chunda Bodhisattva. Tourists can stop to rest under the shade of trees in the yard, contemplating the quiet scenery setting itself apart from the busy streets in the city. 
» Address: 244 3/2 Blv., Ward 12, District 10 
» Opening hours: 6.00 AM – 6.00 PM
6. Giac Lam Pagoda
Constructed in 1744, Giac Lam Pagoda is known as the oldest Buddhist pagoda in Ho Chi Minh City. The pagoda is laid out in the form of the Chinese character "san" (three), consisting of three main areas: The main hall, the patriarchs' hall and the dining hall. The principal shrine is dedicated to Amitabha Buddha, Shakyamuni Buddha, Maitreya Bodhisattva, Samantabhadra Bodhisattva, and Avalokiteshvara Bodhisattva. 
Giac Lam Pagoda houses no fewer than 118 ancient sculptures, along with several engraved boards, pairs of parallel sentences in gilded Chinese characters. Outside stands a 32-meter tall, hexagonal-shaped stupa where a Buddha relic housed on the top floor. You can climb up there to fully enjoy the panoramic view of Ho Chi Minh City.    
» Address: 565 Lac Long Quan, Ward 10, Tan Binh District 
» Opening hours: 8.00 AM – 8.00 PM
7. Khanh Van Nam Vien Pagoda 
Not the most ancient pagoda nor the highest pagoda in Ho Chi Minh City, the Khanh Van Nam Vien Pagoda is nonetheless of interest as it is known as Vietnam's only pagoda dedicated Taoist. The pagoda promotes philanthropic works including running a home for the elderly and a clinic that offers free acupuncture and herbal medicine. 
The main building of Khanh Van Nam Vien Pagoda is accessed via a courtyard containing an ornamental fengshui pond and incorporate three floors. You can find the central shrine in the main hall dedicated to Laozi, a Chinese philosopher and other Taoist deities worshipped here. Next time when you are near Binh Tay Market, don't forget retrace your steps along Nguyen Thi Nho Street to visit this unparalleled pagoda. 
» Address: 269 Nguyen Thi Nho, Ward 16, District 11
» Opening hours: 4.00 AM – 5.00 PM
8. Nam Thien Nhat Tru Pagoda 
The Nam Thien Nhat Tru Pagoda – commonly known as the "One-Pillar Pagoda of the South" was modeled on Hanoi's One-Pillar Pagoda. Despite the similarity in design and architectural style, the two pagodas are not identical. The main hall of Nam Thien Nhat Tru is placed on a 12-meter high pillar of reinforced concrete with the statue of Bodhisattva Avalokitesvara inside.
Daily worship is conducted in the main pagoda buildings behind the largely decorative one-pillar hall. There are statues of the Shakyamuni Buddha, Avalokitesvara Bodhisattva, Guan Yu and many other statues. Visitors can join numerous festivals at this pagoda throughout the year, including full moon days and Vesak, the Buddha's Birthday. 
» Address: 100 Dang Van Bi, Binh Tho Ward, Thu Duc District
» Opening hours: 7.00 AM – 6.00 PM 
All temples and pagodas in Ho Chi Minh City have tales to narrate, but most importantly they stand as architectural and religious gems. If you are wondering what to see in Ho Chi Minh City, why not thinking about a full-day tour to all of these spectacular pagodas?
© Copyright
Trinh Tran written for Maika Tours
You Might Also Like: