Vietnam Travel Tips: Know Before You Go
Are you interested in savoring breath-taking views of Halong Bay, adoring charming old towns in Hoi An or trying a fantastic way of life in the Mekong Delta? These experiences will be impeccable if you take note of some Vietnam travel tips before packing your suitcase.  
You don't know what kind of vaccinations for travel to Vietnam, how to cross the street or what if you don't speak Vietnamese. It is absolutely normal for travelers to have questions and concerns before any trip. Worry not, take a look at these Vietnam travel tips that every traveler should know.
Vietnam Travel Tips: What You Should Know
A trip to Vietnam will be a memorable one if you have a good plan and get some essential travel tips. To make sure your trip go smoothly, always pay attention to travel visas first. Here is some information to help out.
1. Vietnam travel visa 
Before worrying about visa, make sure you take care of your passport well. Your passport must be valid for at least 6 months upon your arrival in Vietnam. Don't waste your trip just because of an expired passport. 
Most visitors to Vietnam need a valid visa to visit the country. Be prepared that visa on arrival is applicable for air travel only. If you enter Vietnam by land or cruise, you are required to obtain a full visa prior to your arrival. 
You can apply online for a single entry e-visa on the Vietnam Immigration Website. The e-visa is usually processed within three working days and valid for a maximum of 30 days for the purpose of tourism. 
Nationals of certain countries may visit Vietnam without visa for a period of time. See the list of countries and regions that have Vietnam visa exemption here. 
Continue reading on The Ultimate Guide to Vietnam Travel Visa
2. Vaccinations for Vietnam
It is good to care for your health before any trip, but you are not required to take vaccinations for Vietnam travel. According to CDC, most travelers should take Hepatitis A and Typhoid vaccines as you can get these diseases in through contaminated food or water in Vietnam, especially if you visit rural areas. 
Just talk to your doctor for your vaccinations needed based on where you are going, how long your stay is, and what you will be doing. In addition, remember to eat and drink safely, prevent bug (like mosquitos, ticks, and fleas) bites, and stay safe outdoors. 
3. Best time to travel to Vietnam
According to many Vietnam travel tips, there is not really a right or wrong time to visit this country. It depends on your desired destinations to choose the best time to plan a trip. Here are some popular places of interest in Vietnam along with their weather highlights. 
4. LGBT+ Travel
Vietnam is still a place where displays of affection in public can raise eyebrows. There have been gay pride parades in a number of cities. Walking arms in arms is generally fine but anything more can upset locals. Keep in mind this Vietnam travel tip to avoid unnecessary embarrassment.  
Big cities, like Hanoi or Ho Chi Minh City are probably more tolerant. There are certain LGBT+ spaces and events for you to join. Anyway, it is always good to book an LGBT+ guided tour to get the best privacy for your trip and stay safe and free in Vietnam.   
See more on LGBT+ Travel In Vietnam: What You Need To Know
5. Travel with disabilities 
In spite of advanced tourism services in recent years, accessible tours in Vietnam still remain limited compared to other developed countries. Traveling by public transport poses a huge challenge to travelers with limited mobility. The majority of pavements in cities like Hanoi or Ho Chi Minh City are not suitable for wheelchair users as they are not exclusive for pedestrians. 
Public toilets are usually not broad enough for a wheelchair to go through. If you are not in appropriate hotels or grand shopping malls, it will be quite hard to find an accessible toilet. However, there are many accessible destinations and accessible tours in Vietnam customised to your needs and mobility. 
6. Crossing the street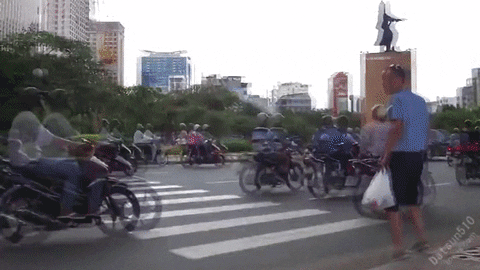 Don't worry much about a full-day Ho Chi Minh city tour if you don't know how to cross the street. As a rule of thumb, always keep a slow and steady pace. Making quick, sudden darting movements or sprinting across the streets are not smart decisions as it will be hard for motorists to anticipate your movement. 
Some travelers have advised that holding out your arm helps let the motorists know you are crossing the street. Unless a stoplight, motorists won't stop the flow of traffic. Traffic lights don't mean the traffic will stop, however. This Vietnam travel tip is always essential.
7. The art of bargaining 
Haggling at Ben Thanh Market is 1 of 10 awesome things to do in Ho Chi Minh City you should try. Bargaining in Western countries is not a common deed but it can be a true art if you really understand the rules. There is no need to worry about haggling when you plan a tour to Ben Thanh Market or Binh Tay Market. 
The act of bargaining in all Vietnam travel tips is not synonymous with disrespect. This is merely a way to get the best deal, some of which can be half of the initial price. Why not shopping around before you decide to buy something? If you can walk away from a market with a few bargains then your market trip will be fun and successful. Some items have a price tag on it, and mostly the price cannot be negotiated, though.
8. Dress code for visiting a pagoda
Visiting pagoda is surely one of the best parts of your trip in Vietnam. Each region in Vietnam is dotted with beautiful, sacred pagodas that lure visitors into the world of tranquillity. As always, it is important to dress conservatively while traveling around the country, especially to religious places.
Never wear short-shorts, low-cut tops if you want to visit a pagoda because they won't let you in. It is recommended that you wear knee-length clothes. If you don't pack a long dress, buy a long robe from the vendors to cover your legs.  
See more on 8 Must-see Temples and Pagodas in Ho Chi Minh City
9. Must-try dishes in Vietnam
What to expect from Vietnam travel tips on cuisine? Each part of the country features its own delicacies: The North with "Bun cha" (Kebab rice noodles) or "Bun dau" (Rice noodles with fried tofu and Fermented shrimp paste), The Central with "Bun Bo Hue" (Spicy beef noodle soup) or "Mi quang" (Quang style noodle soup), The South with "Banh xeo" (Vietnamese pancake) or "Com tam" (Broken rice).
Also, it would be a big mistake if you forget to try Vietnamese street food. There are hundreds of street food stalls, markets, carts and restaurants that serve the best food you've dreamed of. Try these: Banh mi – Vietnamese Baguette, Banh trang tron – Mixed rice paper, Goi cuon – Fresh spring rolls, Oc – Snails, and other Saigon street foods.
See more on Traditional Vietnamese food: Fall in Love with Vietnamese Cuisine
10. Money, transportation, communication 
As a traveler, you should have some basic knowledge of the locals' daily life to make your trip go smoothly. The Vietnamese Dong is an official currency unit, and cash transactions are preferred. Cashless payment still remains low in Vietnam, except for big cities. So, exchange some Dong when you first arrive in this country.  
Vietnam's streets are always loaded with motorbikes but they are not all you can use in Vietnam. You can get around by bus, taxi or use some apps such as Grab, Go-Viet, Baemin just like any other locals. 
Speaking no Vietnamese is no problem, and most people working in the tourism industry speak English well enough to understand your needs. Some locals can give you directions in English fairly well while some just keep smiling as they don't understand what you want. Anyway, knowing a little bit of Vietnamese is a huge advantage when you need to bargain. 
Learning some Vietnam travel tips helps you make the most of your trip in Vietnam.  Whether the North, the Central or the South of Vietnam, plan a trip of a lifetime throughout all regions to see the best of Vietnam. Contact us now.
© Copyright
Trinh Tran written for Maika Tours
You Might Also Like: 
Vietnam Travel Quiz: How Well Do You Know Vietnam? 
10 Red Flags When Traveling to Vietnam
Nicknames of Vietnamese Cities across the Countries