Cu Chi Tunnels Experience: Recall Vietnam's Underground War
Are you interested in history and battlefield vibes? Cu Chi Tunnels experience tour will give you an insight into the Vietnam War and the Viet Cong guerilla fighters. Prepare for a snug adventure as you move through the 'black echo' tunnels. 
Cu Chi Tunnels are an immense network of connecting tunnels in Cu Chi District, the outskirts of Ho Chi Minh City. Built over 25 years, the tunnels played a significant role in supporting Vietnamese troops during wartime. It was said that if the tunnels fell, the Vietnamese would have lost the war; but if they could standstill, they would win. Read down on to find the amazing story about Cu Chi Tunnels and how you can make the most of your trip here.
An overview of Cu Chi Tunnels
Located about 70 km to the northwest of Ho Chi Minh City, Cu Chi Tunnels is a must-see tourist site in Ho Chi Minh City for history buffs who would love to know more about the Vietnam War. Known as the mysterious underground world, the tunnels were not only used as hiding spots but also served as hospitals, kitchens, storage facilities and weapon factories.
To avoid being recognized, people dug tunnels mainly by hands and only a short distance at a time. That is to say, it is out of imagination to know that the network of tunnels used to stretch over 250km, from the outskirts of Saigon all the way to the Cambodian border. The current network is decreased to only 200km, but the efforts of building this site remain heroic.
"Black Echo" was used to describe the experience of being in the tunnels. Now visitors can somehow travel back time to ­­partly experience difficult conditions in the past. This is a rare chance to understand life of the Vietnamese people during the war and how the nation could win from loss.
Currently, you can visit Cu Chi Tunnels in two preserved locations which are Ben Duoc Tunnel and Ben Dinh Tunnel. In addition, visitors can explore some related historic spots in this site and find some fun activities to do in the surrounding area.
» You May Also Like 8 Essentials Museum in Ho Chi Minh City
Things to do at Cu Chi Tunnels
Most visitors opt for a trip to Cu Chi Tunnels for exploring the tunnels, of course. However, you can add some more fun-filled activities to your itineraries. Check them out right down below.
Explore intricate systems of tunnels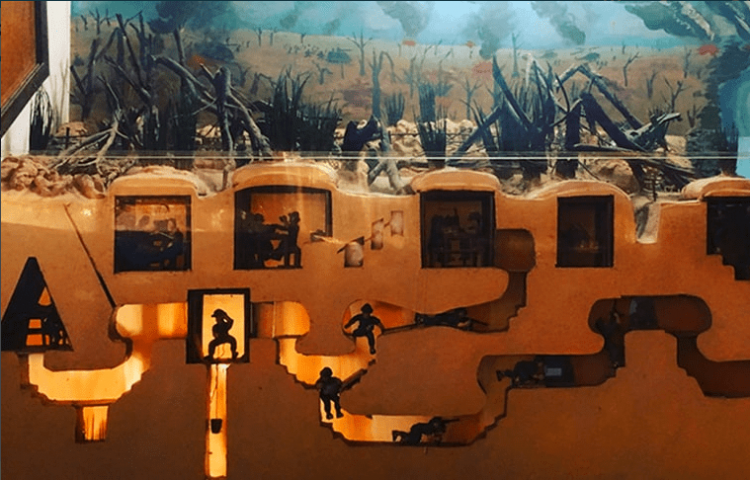 Visitors coming to Cu Chi Tunnels will experience the feeling of being a real soldier. Before you enter the underground labyrinth, there is a good chance to walk through the forest where exhibits bombs, artilleries that were used on Cu Chi battlefield.
You can also watch a short documentary about the history of Cu Chi Tunnels before getting into the symbolic underground network. Here come many cellars for living, treating, storing food and weapon. One of the best things to see here is the Hoang Cam stove which is a product of Vietnamese creativity to hide the smoke.
When you finish your 'black echo' experience and finally escape from the underground labyrinth, take a photo to capture that 'glorious' moment. And as a part of hard wartime, don't forget to try the food that associated with guerilla fighters' life – squeezed rice, cassava with bean salt.
Visit memorial areas
Apart from the tunnels, there are some places worth visiting to know more about the heroic nation. The monument temple for martyrs of Ben Duoc – Cu Chi was built to commemorate the people and the soldiers who sacrificed in the two wars against French and American Armies. Inside the main temple, along the walls are names of the martyrs of the Party of People and the armed forces that are carved in golden letters.
The simulation area of Cu Chi Liberated Area also attracts visitors to take a tour. The area is divided into some spaces that simulating the past life, ruined countryside, bodies of tanks, planes and bulldozers. You can also go to see the landscape lake simulating the East Sea, the forest of precious woods and miniatures models of One Pillar Pagoda, Meridian Gate and Nha Rong Harbor.
Experience Cu Chi Tunnels Firing Range
As you visit the war-themed attraction, nothing is better than trying the shooting experience. You can choose to get an adrenaline rush at the National Defense Sports Shooting Range. Just pick up your favorite gun and you will be given some instructions on how to use it. Then stay focused, hit your target and have fun!
If you travel in groups, check out the Group Paintball Shooting Experience. Each 'soldier' will be provided with masks, uniforms, armors and guns. This is great to improve your eyesight and focus ability with mobile targets and hidden targets. There are also some gun-making classes for those who want to have the battlefield experience but scared of something fast and furious.
Enjoy favorite dishes at Trung An Garden
A trip to Cu Chi will be complete with something to eat at Trung An Garden. You will find a heaven of tropical fruits here, from durian, rambutan, jackfruit to mangosteen and many more. Set yourself free in the green garden, feel the cool breeze, completely relax and rejuvenate yourself.
Getting around then you can order some local dishes from the host family. Fresh vegetables and home-raised cattle will bring you the best taste of the countryside. This is exactly a place to find unique food experience with locals, unlike ordinary restaurants. The options will make your mouth water.
♦ Must-try dishes: Boiled heifer meat, sugarcane juice (with durian flavor)
» See more on 24 hours in Ho Chi Minh City: What to Do in a Day
Recommended tours to Cu Chi Tunnels
Here are some options for you to get the best experiences at Cu Chi Tunnels with local English-speaking guides. Enjoy your tour to its fullest now.
Cu Chi – Ben Dinh Tunnels Tour
On this trip, you'll learn how Viet Cong guerilla fighters lived in an ingenious underground labyrinth during the Vietnam War. Your English speaking guide will explore the Cu Chi tunnels with you while explaining all about their importance, significance and functionality. You can also go to visit a local family to experience their daily life here and learn how to make the rice paper.
Book Cu Chi – Ben Dinh Tunnels Tour Or Private Cu Chi Tunnels and HCMC Highlights – Shore Excursion
Ben Duoc – Authentic Cu Chi Tunnels
You'll visit the Liberated Area where you can see life of  Viet Cong guerrilla fighters during the most intense time of the war from 1961-1972. At Ben Duoc Tunnels, we'll go through and enter into the old base of the Viet Cong. Prepare to be amazed by the cunning traps and the sheer resourcefulness of the Viet Cong. At the end of the trip, you'll get to learn about the amazing hidden kitchens that were inside the tunnels and even try out some typical Viet Cong food.
Book Ben Duoc – Authentic Cu Chi Tunnels Tour  Or Private Cu Chi Tunnels and HCMC Highlights – Shore Excursion
Whether you are a history buff or simply a sightseer, Cu Chi Tunnels really marks your day with something exciting. In addition to Full Day Ho Chi Minh City tours with famous attractions in the city center, you should visit Cu Chi Tunnels to get an authentic experience of this city. Contact us for more information and plans for your next trip to Vietnam.
© Copyright
Trinh Tran written for Maika Tours
You May Also Like
10 Things to Make You Fall in Love with Vietnam Over and Over Again